Last Updated 12th July 2022
Nigel Jepson, who wrote the book Ramsbottom's Revolutionary Doctor, which you can buy from our online shop or Hearts for Homes, has now written a book about the history of Ramsbottom Cricket Club. The book is available from Hearts for Homes and details of the book can be found here
We have an active Facebook page, with regular postings of the history of local streets and people. It is also a forum for asking questions about ancestors and other research.
We have created a YouTube channel for videos of interest to Ramsbottom Heritage Society. There are currently 11 short videos and more will be added soon.
On the 25th February to celebrate 35 years since the first meeting to form the Ramsbottom Heritage Society, photos were taken on life in Ramsbottom Now. These can be seen in the Photographic Database
The book Nuttall: Ramsbottom's Lost Village.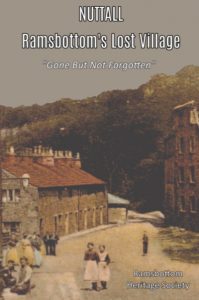 is available for ordering vis this link . We also have other books produced by the Society, Around Ramsbottom, 19th Century Ramsbottom, Trade Directories, Nuttall Park
We are also promoting a new book written by local author Nigel Jepson, which is also available from our Shop
The books (apart from Trade Directories) are also available at Hearts for Homes on Bridge Street
Latest News
The Ramsbottom Heritage Society is a registered charity which promotes the history of Ramsbottom, as well as recording the present through photographs.
We research the history and memories of Ramsbottom residents and produce audio memories, some are available here. We used to run a photographic competition each year to record the changes in Ramsbottom, but now accept entries all year round.
We have made available old maps of Ramsbottom
We have a Photographic Database of over 6.000 photographs
We also have an active conservation group who meet regularly to review planning applications and their impact on the conservation of Ramsbottom.
Membership runs from April to March and currently costs £8 a year, with a reduction for joiners throughout the year. Members receive a twice yearly News Magazine, back copies are available for viewing here
Bury Archives
The Society has a varied collection of over 6000 documents and 2000 photographs which are fully catalogued and packaged in archive-quality materials. Most of these documents and photographs are held at Bury Archives, where they can be viewed. The opening hours at the Archives which are on the bottom floor of Bury Library/Art Gallery are now Tuesday-Friday 10 - 3.30 p.m. and Saturday 10 - 1 p.m.
The online Catalogue can be found at http://archives.bury.gov.uk
Duplicates of some of the archive are also available at the Heritage Gallery when open on the 2nd Sunday.  The list can be downloaded here
Heritage Gallery
The Heritage Gallery is on the first floor of Ramsbottom Library and has an exhibition created by members of the Heritage Society. The current exhibition, which will run until 2022 is called
Ramsbottom Pubs and the Odious and Loathsome Sin of Drunkenness and concentrates on the public house that existed around 1890.
The Gallery will be staffed by Heritage Society members once a month on a Sunday from 12 p.m to 3 p.m.