Monthly Meetings
Monthly meetings are held at Christ ChurchNeighbourhood Centre on a Thursday evening starting at 7.30 p.m. Note that the dates are variable, i.e. not the same week of the month. We meet from September to June, and have a 2 month break in July and August.
Christ Church has the postal code BL0 0PX and is on Great Eaves Road. There is a car park at the back of the church.
There is a guest speaker and non-members are very welcome.
There is a charge of £2 for visitors and £1.50 for members, which includes refreshments.
The normal format is the leader welcomes the meeting with any news and outstanding business. There is then either part one of the talk, followed by a refreshment break, and then part two, or a refreshment break and then the main speaker if the talk cannot be split. The meeting usually finishes between 9 p.m. and 9.30 pm.
Programme for 2023
October 19 Brian Groom : Northerners from the Ice Age to the Present Day
Brian Groom is a journalist and author, originally from Stretford. He went to Manchester Grammar School and Balliol College, Oxford, with most of his career being spent at the Financial Times, and on retirement in 2014, he moved to Greenfield, Saddleworth. His bestselling book Northerners: A History was published in April 2022.
Northern England has a fascinating past: waves of migration, invasions and battles; Roman emperors ruling from York; Anglo-Saxon Northumbria functioning as Europe's cultural and intellectual centre. Indeed, Northern England has had a profound impact on European culture as well as the global economy beyond the Industrial Revolution, which is often viewed by economic historians as the key event in human history.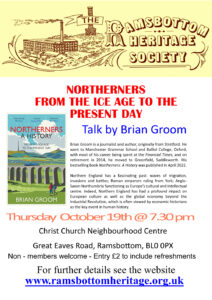 ---
November 16 Elizabeth Sibberling: Victorian Workhouses and Asylums
This is the talk that was originally planned for March, but had to be cancelled due to adverse weather.
Elizabeth is a Manchester Tour Guide and will talk about institutions which were formed to look after people, but inhumane and barbaric treatments were common.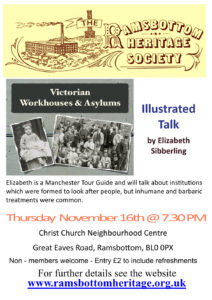 ---
December 14 Christmas Festive Fun
Tickets available at the November meeting or from committee members, to include food
---
Programme for 2024
January 11 Geoffrey Scargill - Edward Watkin : Railway King
---
February 8 Joseph O'Neill - Angel Meadow: A Manchester Slum
---
March 21 Elaine Taylor - Gardens for Lord Leverhulme
---
April 11 Sid Calderbank - Edwin Waugh - The Lancashire Burns
---
May 9 A.G.M. followed by Peter Watson - North Country Folk Learning
---
June 20 Sharon Ruston - Reading Sir Humphry Davy's Notebooks